Become A Member (Green Thumb Not Required)
Annual Membership June/2023-May/2024

-----------------------------------------------------
-----------------------------------------------------
-----------------------------------------------------
-----------------------------------------------------
----------------------------------
----------------------------------
----------------------------------
If you would like to make a donation in honor of an individual or for a specific expense, please fill out and return a gift form.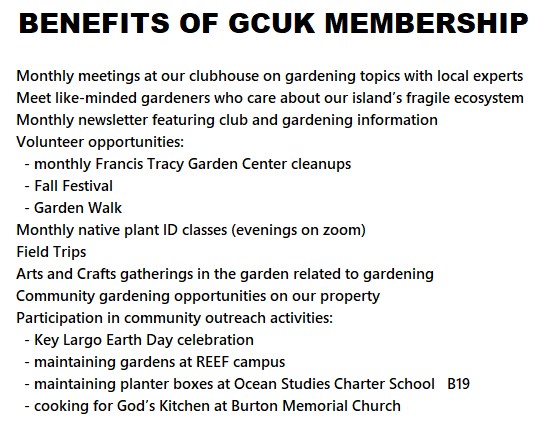 Additional information:
We invite you to join us by becoming a member of the Garden Club of the Upper Keys.  Our meetings are held at our historic Francis Tracy Garden Center MM94 Bayside. We meet on the third Tuesday of every month September through May at 11:00am. Our monthly meetings feature a speaker or an activity that focuses on plants, including natives, specific for growing in our Keys environment. Doors open at 10:00 am for social hour. We encourage you to come early to meet and greet members.
Our gardens are a natural hardwood hammock that offers a home to migrating birds and butterflies. We have many native plants as well as non-invasive exotics. Club members enjoy maintaining the garden and use it as a teaching tool. Throughout the Club year, we have fun and informative workshops. Our field trips and our "Members Only" Garden Walk held each February or March offer a diverse view of gardening. 
Our biggest fundraising event is Garden Walk held each February. A selection of private gardens are open to the public. Our club members and the community come together to learn about plants and landscaping ideas. The Francis Tracy Garden Center features our gardens, an art show, food trucks and a variety of vendors.
Our members have contributed to the local gardens at REEF (Reef Environmental Education Foundation) and the Ocean Studies Charter School.  We also assist in dinner preparation for God's Kitchen at Burton Memorial United Methodist Church.
We encourage you to come and enjoy interesting, hard-working and fun-loving people who are passionate about enhancing our community. Many of our members are Snowbirds and/or spouses. Our meetings are always open to guests.
In order for our Club to prosper we ask our members to volunteer at least 10 hours each club year. 

For more information please contact our Membership Director: gardenclubupperkeys@gmail.com.
The Garden Club of the Upper Keys, Inc. is a qualified 501(c)(3) educational organization registered in the State of Florida, registration #CH37407. All donations are tax deductible to the extent permitted by law.  
A COPY OF THE OFFICIAL REGISTRATION AND FINANCIAL INFORMATION MAY BE OBTAINED FROM THE DIVISION OF CONSUMER SERVICES BY CALLING TOLL FREE 800-435-7352 WITHIN THE STATE.  REGISTRATION DOES NOT IMPLY ENDORSEMENT, APPROVAL OR RECOMMENDATION BY THE STATE.